---
"Corporeal (exchange)" a collaborative exhibition between Huang Chih-Yang of Taipei City and Gerard Pas of New York/London, CDN. At the invitation of Cannon Heresy, CrossPathCulture's (CPC) Executive Director, Huang Chih-Yang and Gerard Pas were asked to join together and consider making an installation towards a joint solo exhibition at CPC's Gallery and Workshop Space on 47th St. and 7th Ave. in Manhattan, New York.

As CrossPathCulture New York artists' in residence, Huang Chih-Yang and Gerard spent the late summer - early winter of 2000 getting acquainted and discussing their ideas. While learning of each others aesthetic concerns they agreed upon a format for which they could each individually bring components of their own works together to form a single installation.

Ironically, neither Gerard nor Huang speak each other's language of English / Mandarin very well: subsequently an occasional translator was kindly provided by Huang's dealer in New York - Ethan Cohen Fine Arts. This is where the title for the exhibition gets its name: the difficulty of communicating in two radically differing languages. Nevertheless, the language of Art transcends verbal language and they were able to communicate through the use of their common visual language. Originally to be titled "No Dialogue" the exhibition "Corporeal (exchange)" is the manifestation of their discussions.
Moon Over Water

Gerard PaS © 2001 / Huang Chih-Yang © 2001

Learn how Huang Chih-Yang and Gerard met in New York and how Huang's gift of calligraphy, stimulated Gerard to create the above photograph in exchange.
"Corporeal (exchange)" consists of a forest of sculptured trees standing on images of living microorganisms and or germs. The trees, made by Gerard, are crutches morphing back into living trees: titled "The forREST". The bases or stands for these crutches consists of television projected DAT-video images of living bacteria, created and documented by Huang.
CrossPathCulture's original motivation for asking these artists to participate in this collaboration was their observation that both Huang Chih-Yang's and Gerard Pas' works where so fundamentally different, yet both celebrate the Body. Pas' work centres on the "Human Condition" and the frailty of the body, while Yang's is a celebration of the empirical world through his observations of nature. At face value these two views may seem incompatible, yet the result of Yang's/Pas' collaboration brings forth an interesting paradox of ideas: both a very positive message of Healing and a focus on the tension between the ideal and broken body, the sick, germs, disease, etc.
In the fall of 2000, Huang Chih-Yang had just finished his solo exhibition of "The Lovers Library" at The Ethan Cohen Gallery in New York. Through this body of work, Huang celebrated the beauty of the human form, while also focusing attention on how it belongs to the whole of nature. Gerard goes by the nickname "PAinS" in New York and as can be seen from his work here at www.gerardpas.com his images are often stark comments on the broken body while at the same time a commemoration towards healing through catharsis.
These two artists together are not unlike Hegel's study of the French Revolution. Did the Revolution bring liberty or tyranny with the guillotine? So too then the polemical discourse between Yang and Pas provides an interesting debate between their contravening sculptures and images! The discussion between these two artists postulates the similar question, which Hegel asked "Are all the cows grey in the dark?" or in this case "Is there a dialogue between empirical form or the perfect form of and in the human body?" not unlike Plato's analogy of the cave.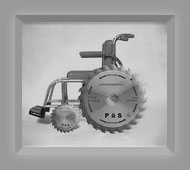 "The Forest" is a celebration by two artists contemplating the entire Human Body in all its facets of Sickness and Health. Additionally, each artist exhibited a small aspect of their individual art works at this showing. For example, Gerard exhibited his new collaboration piece with Chuck Close titled "Portrait of Chuck Close" (click here or on the image) and Huang Chih-Yang exhibit more DAT-video (DVD) projections of bacteria during the exhibition in separate rooms.
The exhibition "corporeal" ran from Nov. 3rd until Nov. 28th, 2001 at
"White Box - The Annex", located at 601 West 26th St. 14th floor n.w. Atelier (between 10th and 11th streets), New York City, U.S.A.
It was presented by CrossPathCulture in association with "White Box - The Annex". Special thanks go to Juan Puntes, Director, White Box Gallery NY. for his patronage and kind support in making the space available for the exhibition.
For more information and resources please contact CrossPathCulture, 135 West 50th Street (just off Times Square near 7th Ave.), New York, New York, U.S.A. telephone: (212) 664.9784. Or contact the White Box Gallery: 525 West 26th St., New York, New York 10001 U.S.A. Telephone: (212) 714.2347

Gerard created a special page of his photos and thoughts on being in New York City from the late summer of 2001 until 2002. This is the view from his Chelsea studio during this time.
---