This was my studio in New York City during the fall and winter of 2001. The studio was also the location of my exhibition "corpoREAL (exCHANGE)" which opened on November 3, 2001. The exhibition consisted of works I made in collaboration with Huang Chih-Yang of Taipei City, Taiwan and Chuck Close of New York City. To see works from these exhibitions please click on the "Projects" link above or here for Chuck Close — here for Huang Chih-Yang.
The studio was kindly provided me by my patron CrossPathCulture (CPC) with the assistance of the White Box - The Annex Gallery, New York. It is located on the 14th Floor of 601 West 26th Street, between 10th and 11th Avenues, on the Hudson, in the district of Chelsea. The building was named or is otherwise known as the Starlett-Helmsely Building. The studio was shared with Huang Chih-Yang who worked in an other area of this space (not seen below).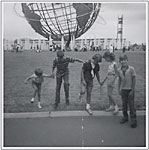 Gerard (far right) at the 1965 NYC World Fair with his sister Margaret Pas (who now lives in Brooklyn) and cousins (who have since moved upstate).
This was the year in which Disney introduced it's concept ride or animated electronic display, titled "it's a Small, Small World". As much as I hate to admit anything on a equal tangent with Disney - but in terms of what they know best, the media, they couldn't have sung it better than when the world watched, in terror, the events of 911 unfolding around us through the electronic media. It is a small world.
I put together this page as I was working on the installation "The foREST" with Huang Chih-Yang, as well as building my "Portrait of Chuck Close". With the photos below I wanted to simply convey my work environment during the fall and winter of 2001 and also show some of the photographs which I had taken in the months preceding and after September 11th. I purposely withdrew from the macabre and images of destruction, as I've already seen enough of those and each one makes me lament yet again. I felt it important to show that life is for the living and that New York is strong and continues on with it's wounds, yet still needing the catharsis of it's citizens, who love it so. I also tried to steer away from the the saccrine and facile "feel good about america pictures". I just wanted a sort of day to day diary of my life and vistas in NYC. It was a very difficult time for all, not just the loss of life, the horrible destruction of 40 acres of it's buildings but the anthrax scares and other hysteria of the day. I regret the terrible price that had to be paid but as a lover of New York, I have never been there in kinder times than the months after. The subway train would be stopped for an anthrax scare and people would talk to one another. People started caring for each other and for good reason: we had learned just how delicate the balance of life is collectively. All of the photos where taken by me Gerard Pas © 2001-02 (unless otherwise stated) using a Nikon CoolPix 990 digital camera.
New York is the greatest city in the world to me. I first visited New York in the company of my parents, who took us to meet some of my family who lived in the Bronx and also to see the 1965 Worlds Fair in Queens. From that time forward New York has not only filled my imagination but it has provided me with an endless litany of inspiration. New York is my Muse. It is the one city in the World where I always feel at home. Yes, I have my own special love and nostalgia for Amsterdam, my original home. An affection for Cologne, Germany which gave me so much support in my early days as an artist. Yet New York remains unique to me. London - Canada is my other home to New York - my family, children and partner still live there so it also conjures up certain feelings - but nothing compares to New York. I can truly say "I love New York" and today after all the debacles of the last year, I can say "I love New York even more!"
To the courage of the Firemen - Fire Women, Police, Ambulance Attendants and all those who gave of and risked their lives, I give thanks - you are dearly missed and appreciated! I look to your gift of courage with such respect and admiration, even today when a Fire Truck or EMS vehicle goes by I stop and ponder on your valour and the path of danger which is put in their way. For months I couldn't get in a uptown train and not see your friends and colleagues, in their fine dress, heading up to St. Pat's on 5th Ave. to celebrate your life's and the tragic loss there off. What a veil of tears has been shed on your behalf - even the Hudson seems tiny to the course of tears we have all wept. You have shown us that there is light and goodness and have given the highest gift any person could give another, you gave your life.
To the innocent victims and families of this heinous act of hate - my sincere condolences and sympathy - we are all struck with grief at your loss. Your loss is incomprehensible to me and 911 would stand forever as a dark, dark day for humanity where it not for the light shone by the courage of those heroes mentioned above.
My prayer is that we can keep New York the great City for which you risked and gave your life's for - God bless you.
I dedicated this page, my above projects and their exhibition to all the victims of the September 11th tragedy, as an artist this is all I have to give. I would also like to thank my sister Margaret Pas for her hospitality and kindness in making New York so accessible to me.
Gerard Pas - New York
---